Hello Hawks,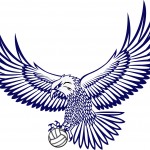 We couldn't be more excited about our opening week of competition.  All the teams have worked hard and we are ready to take on Division I.  Good luck to everyone.
Remember that the Varsity match begins directly at the conclusion of the JV match so there are times when it might start early.  When there are triple headers it is our experience that things go a little slower.
Monday September 8th

Away at Goffstown (Triple Header)
Freshmen get dismissed early (2:05)
JV/Varsity Bus leaves at 3:00
Match times are 3:30, 4:30 & 6:00

Wednesday September 10th – Home Opener

Triple Header against BG
Match times are: 3:30, 5:00 & 6:15

Friday September 12th

Away at Concord
JV & Varsity Bus at 2:40
Match times are 4:00 & 5:30

Sunday September 14th 

Car Wash at the Exeter Sunoco Station
10-12 Freshmen
12-2 JV
2-4 Varsity
A couple of other reminders:
Please remember to take all trash with you or deposit into appropriate receptacles
The Freshmen and JV will play 3 sets regardless of who wins the first two (mandated by NHIAA)
All Varsity matches are best of 5.
Warm-ups begin approximately 20 minutes before the match time under normal circumstances
Finally, check out our parent-fan tipsheet 2014!
Go Hawks!