Hello Hawks!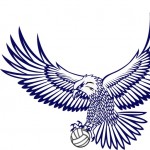 Looking forward to seeing you all this coming Monday at the first Summer Open Gym.  The entire schedule for the summer can be found here or on the "Schedule" Tab above!  We also begin the off season conditioning program this week so the schedule starting Monday June 26 is as follows:
Monday (EHS Main Gym)

4:30 – 6:00 Middle School and Incoming Freshmen
6:00 – 8:00 High School (upperclassmen)

Wednesday (EHS Weight Room)

9:00 am all players – any grade

Friday (EHS somewhere! Small Gym, Football field, where ever we can find space)

9:00 am all players – any grade
A couple of notes:
Here is our 2017 Blue Hawk Brochure with information about our program.
If you're new to the high school you can park in the parking lot nearest the football field and enter the gym through the double blue doors.
BOTH conditioning sessions are essential to continued program success and injury prevention.
Bring Water – Summer Sessions are hot!
If you have not done so already, it's a great idea to "subscribe" to this blog by entering your email to the right where it reads "Subscribe to Blue Hawk Volleyball via Email".  This site is solely for Blue Hawk Volleyball.  You will not receive spam or be added to any mailing lists (other than this one).  You will only receive emails when we post something to this site (about 10-15 times during the season and maybe 3-4 times in the off season).
Thanks!  Have a great Summer and let's get ready for another great season!!!
Coach Mike