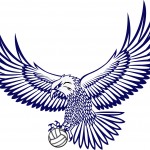 Congratulations to the Hawks!
After taking care of business with Nashua North last night (25-15, 25-15, 25-8) the Hawks will host one of their rivals of the last few playoff seasons in Spaulding High School.
The Match will begin Saturday at 4:30 PM.  We hope you will come out and support the program by attending and cheering on the team!  All JV and Freshmen Players and their parents are encouraged to attend.  We are always glad to see Alumnae and their parents in the house as well!
This will be the last home match for the great young ladies in the picture!
Congratulations on a great season so far and a fantastic career at EHS!!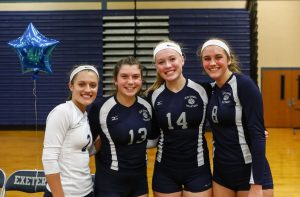 Seniors from left to right:
Kelsey Peirce, Jen Walsh, Sydney Johnson, Erin Kelly
Go Hawks!
Coach Mike
PS: The NHIAA (not Exeter Volleyball) will be charging admission to the game ($3.00 for students, $5.00 for adults).  There will be concession available through the Boosters.