Hello Hawks and Future Hawks!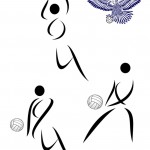 Today being the last day of July marks the count down to this year's tryouts.  The schedule for Tryouts and IMPORTANT INFORMATION about requirements to attend and participate can be found here.  Any changes or updates to the schedule will be announced on this website (this is a great time to add your email to the "Subscribe to Bluehawk Volleyball via Email"  list in the box to the right!).
!!! Also PLEASE NOTE: The Monday night Open Gym for upperclassmen scheduled for tonight (Monday, July 31st) will take place at "The Rim" in Hampton, NH (311 Winnacunnet Road) from 6:00 – 8:00 PM.  There is no Middle School and Incoming Freshmen Session as the 4:30 – 6:00 sessions are completed for the summer season.  !!!
Thanks and enjoy the rest of your summer!
Coach Mike