Hello all,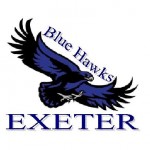 Since this is a strange week in the schedule (and I'm a little late with this post) we will combine this week and next.  A little look back before we look forward:
The Varsity View 1/3 of the way through:
After dropping a heart breaking 5 set match to 3rd place Nashua North on Friday the Varsity rebounded Monday night to take a 3-0 victory over Nashua South.  At 5-2 and holding 7th place in the standings, we are off to one of the best starts for Exeter Volleyball in recent years. We also hold a win over 5th ranked Goffstown so we know we can challenge with the best!  Make no mistakes, there is a tremendous amount of parity in Division I this year so all matches from here on out will be challenging; something the team has discussed and is ready, willing and able to embrace!
This Week:
No matches this week UNTIL… The big match AT Winnacunnet on Saturday.
JV plays at 10:00 am and Varsity will follow directly (around 11:15 – 11:30).  
Bring the fans and bring the noise!!!!
Next Week:
Monday September 29th – Triple Header at Home vs. Timberlane
3:00 pm – Freshmen
5:00 pm – JV
6:16 pm – Varsity
Tuesday September 30th
3:00 pm Freshmen Home vs Portsmouth
Wednesday October 1st JV & Varsity Away at Salem
4:00 pm – JV
5:15 pm – Varsity
Friday October 3rd – No matches (Varsity Scheduled Day off)
Enjoy the Week – Go Hawks!
Coach Mike