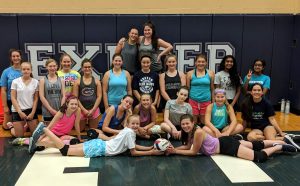 Hello Hawks,
<<—— We wanted to thank all the campers who attended the camp last week!  Coach Kate and I had a blast and assistant coaches Hanna and Dana were awesome!!  Good luck to all of you in the fall!
Also, The Tryouts Page has been updated with the Tentative Schedule.  Please note we will confirm the times with the school and update the page as needed.
Tonight's Summer Gym is scheduled at EHS (4:30 – 6:00 Middle School and incoming freshmen & 6:00 – 8:00 pm High School).  We will meet in the small gym.  With only one court available, we are trying to limit the High School session to EXETER only players please.  Thanks!
Coach Mike