Hello Hawk Families,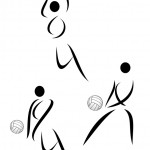 I want to say congratulations to all the players who came out to tryouts and gave an incredible effort for 4 solid days of tryouts!  Tryouts concluded on Thursday and pre-season is well underway.  On behalf of the coaching staff, we are excited to begin the season and looking forward to continuing the work of building a solid Blue Hawk Volleyball program.
On Tuesday, August 27th, there will be a parent and Boosters meeting in the Cafeteria at EHS.  A note was sent home with your daughters on Friday along with a tentative agenda and can also be accessed here: Notice to Boosters 2013-signed.
Please let me know if you would like to add anything to the agenda.  We expect the meeting to last about 30-45 minutes.  We hope you will attend and support the program, meet the coaches and give your input.
The next event is a Varsity Jamboree at Oyster River High School on Thursday, September 29th at 5PM.  We will also be hosting a Varsity/JV scrimmage with Oyster River and Epping High School on Wednesday, September 4th, 5pm at EHS.  Both events are in the calendar.
Remember, you can subscribe to these posts by entering your email address to the right and the schedule is always available for viewing (you can also subscribe to the calendar if you use Google calendars).  Remember that schedules can, and often do, change at the last minute.  Every player should be in touch with their coach directly about practices and matches.
Thanks and GO HAWKS!