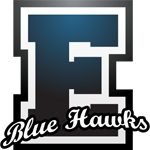 Hello Bluehawks!
For those of you who couldn't attend the parent information meeting on Thursday, here are the rules and guidelines we discussed. We must follow these protocols to ensure we are keeping all of our athletes safe.
It is going to be VERY important that we are all patient and disciplined this season inside and out of the gym, so we can complete a successful and healthy season!
Basic Safety Precautions
Every player MUST complete a Covid waiver to participate this season
All paperwork must be complete to participate in tryouts
Temperature checks and health questionnaires will be taken EVERY day for EVERY player

If player registers a temperature of 100.4 degrees, they will be sent home
If a players or any of their family members in their household are feeling any symptoms of illness, it is crucial that they stay home from practice or matches

All players and staff will be required to wear masks in the building at all time

masks will not be provided by the school, so players must come equipped with their own, clean mask

Hygiene and sanitization is integral to keeping all players and staff safe

regular hand washing and laundering of equipment and uniforms is imperative

Players will under NO circumstances be allowed to carpool with other players

they will be sent home immediately if they arrive in a car with anyone but family members
if there are issues with transportation, please communicate this with coaches

There will be NO common hydration station

players must bring all the water they need for each session, as water fountains will be off limits

If players, or their household members have traveled outside of New England in the past 14 days, they must report this to staff and allow for 14 days to quarantine at home before returning to play
Players must be completely remote in learning to participate in athletics

this includes all students enrolled in SST classes

It is HIGHLY encouraged that all athletes participating in fall sports refrain from participation in other sports (club, AAU, recreational etc…) or activities in which they could be exposed to illness
Guidelines for Matches and Practices
Each player will only be allowed 2 family members as spectators at home matches and they must wear masks throughout the match

spectators must follow social distancing protocol and stay at least 6 feet away from other spectators that are not household family members

No spectators will be allowed at away matches

this may be re-evaluated throughout the season

Buses to and from matches will be provided with a maximum capacity of 25 players and 1 coach

parents will be allowed to transport their child to matches with appropriate written documentation and advanced notice to coaches
players will NOT be allowed to drive themselves to or from matches

The locker room will NOT be available for use, so players must come dressed and ready for practices and/or matches
Indoor bathrooms may be off limits to players coaches and spectators

bathrooms in the stadium will be open and accessible for everyone

If players need to seek athletic training treatment from our athletic trainer Heidi, they must come 15 minutes prior to start time or immediately after practice and respect all social distancing rules while waiting for treatment

training room will be outside in the concessions area of the stadium

Players will be asked to arrive to practice NO earlier than 10-15 minutes prior to start time

in the past we have asked players to arrive at least 30 minutes in advance, but to avoid team overlap we ask that players arrive 10-15 minutes before practice and no earlier

There will be absolutely NO congregation of players at any time

this includes before practice, after practice, during water breaks

we ask that they place their belongings 6 feet away from other players and remain socially distant throughout the entire time in the gym when possible

During matches we will NOT change benches or sides of the court between sets
There will be no captains meetings or coin toss prior to matches to determine first serve

visiting team will automatically receive first serve in the first set
only one coach from each team and one referee will be present at pre-game meeting

Scheduling of matches will be determined by AD's and will remain regional until playoff schedules
There will be no concessions allowed at any home matches
Carbo Nights are not allowed during the season as to limit large group gatherings
Fundraising will be limited and must be given permission through Coach Ball
I think that covers most of the bases, but I am sure I will be adding/updating you all regularly as I receive more information. Thank you all for your patience and willingness to work together to keep everyone safe and healthy!
Also. WELCOME Exeter Alum Matt Bozek to our coaching staff!
Matt was one of our first participants in the Exeter High School boys' volleyball program, and went on to play four years at Endicott College. He coached alongside Coach Mike this winter in the club season and is excited to get the season started! We are thrilled to have him on the staff, and look forward to seeing all the amazing things he will bring to the JV team! CONGRATS Matt!
See you all Tuesday!
Sophomores, Juniors and Seniors: 3pm-5:00pm
Freshman: 5:30pm-7pm