Hello Hawks!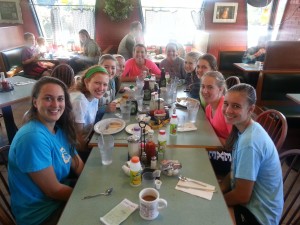 Had an awesome day on Saturday!  The Car Wash was a great program success with contributions from everyone!  I especially want to thank the parents who gave of their time and materials!  It was great to have tunes, supplies and all the help!
Had a great practice with Varsity Saturday morning followed by Breakfast (photo left) at Steve's Diner!  Then off to the car wash for the 12-2 shift!  It was a lot of fun!
The Schedule this week:
Monday September 30th:

All Three teams travel to Londonderry (Bus at 2:45)
All three teams, one bus.  Be prepared!

Tuesday

Yoga Day – All Teams 4:30pm
Practices at usual times

Wednesday

Freshmen Home Vs. Timberlane 4PM
JV Home vs. Dover 5:3oPM
Varsity Home vs. Dover 6:30PM

Thursday

The Usual times for Practices

Friday

All three teams to Nashua South
Freshmen: 3:30PM
JV: 5:00PM
Varsity: 6:00PM
 Have a Great Week!
Go Hawks!