A note from the coach: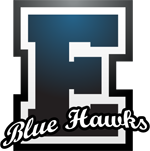 Hello Hawks,
9 Years have somehow passed and the program is as strong as ever!  As we enter the the 2018/19 season the Blue Hawks are ready to make some noise.  Young players are coming into the program with skills and incredible love of the game and veteran players are as confident and competent as they have ever been!  Coaches Morissette,  Simmons and I have enjoyed working with you, building a program together over the past few years and can't wait for whatever comes next!  With close to 90 student athletes participating in the CMS program our numbers are strong. Coach Mathews has headed up the CMS program for a few years now and we have worked together to establish a more consistent and unified environment.  Our "Blue-White-Grey" Middle school tournament held at the high school is a regular event now!    We have established summer camps for new players and run weekly programs during the summer for high school players.  With your help, we will continue to build culture, enthusiasm and Blue Hawk Pride as the program continues into its fourth decade.  Exeter is one of the first programs to participate in NH Volleyball which began in 1977.  Having known and worked with many of the former Exeter coaches over the years I think they would be proud of the effort!  Here are the last few coaches of Exeter Volleyball:
Chia Rowe 

Carolyn Prescott-O'Hara

Katie Jentes-Ellis

Christian Citerella

Lisa Mcintyre

Roy Swanson
Can anyone name a few more over the years??  Are you Alumnae of Exeter Volleyball? Want to participate in the Alumnae match in 2015???  If you have any fun facts or memories of Exeter Volleyball please contact us using this form.  We would love to know more about the school's volleyball history and promise to give the history a home on this site.
Here's looking forward to the future of Exeter Volleyball.
Go Hawks,
Coach McDonnell (2011-12 – present)