Hello all!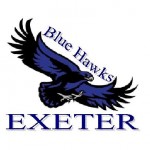 It appears as though we may actually have the gym Next Monday (July 21st) for regular summer gym hours.  I have left it on the calendar for now.   I am waiting for confirmation and will send out a notice (through this site) when I know for sure.
Remember to enter your email to the right of this post in the "Subscribe to Blue Hawk Volleyball by Email" box to receive all postings via email.  This is not a commercial site so your email is for Blue Hawk Volleyball use only.   It is the only method I will use to get notices to all teams, parents, players, incoming freshmen, etc.
Also,  voluntary conditioning will continue next week on Tuesday July 22 and Thursday July 24 both at 9:00 am in the small gym.   Please bring a hand towel (or two) and plenty of water.
Finally, we are trying to plan an Alumni Game on  Saturday August 23 at 9:00 am so if you are an Alum and you want play, please email or text me directly.  Once I have confirmation from the school I will post the details here.  For all others, I hope you will come out and support the event!
Hope you are all having a great Summer!
Coach Mike