Hello Hawks!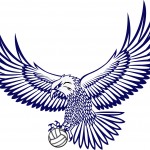 It was a great win on Friday by both the JV and Varsity and great to finish the regular season with a win over a top seeded opponent!  It was also a nice way to honor our seniors!!!  We will be moving on to the playoffs this week.  I would like to encourage any and all JV and Freshmen players to attend the playoff matches.  They are welcome to ride the bus with us at 4:15 this Thursday.  We would love to go to our first round opponent's place with our own Cheering section and could use the support!
We will be playing at Alvirne High School with first serve at 6:00 pm.
Please be reminded that all NHIAA tournament rounds will have an admission fee ($7.00 for adults, $5.00 for students).  Please plan accordingly.  Thanks!
Go Hawks!
Coach Mike