My Friends,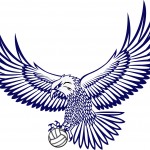 The season came to a close for the Blue Hawks last night and though the outcome was bitter, the season was sweet!  OK, that's a pretty corny way of saying I really enjoyed this season and I REALLY enjoyed this great group of players.  It was fun and challenging and there wasn't a single day that passed when I couldn't wait to get to the gym!  Coach Kate and Coach Cassy will agree that we had 12 players, every one of whom would fight to the end for their teammates.  They were unselfishly supportive of each other and of us.  They truly embodied the concepts of team, and camaraderie and commitment to a common goal.
To the fans and fellow players (Kim, Jenna, Paige, Danielle, Taylor and Sophia)  that came out to support us we want to say thank you so much for being there.   To Coach Morissette and Coach Taylor who work tirelessly to prepare their young players and have committed to building a great program; Thank you so much!  To the Boosters who were AMAZING all year we can't thank you enough!  To the parents who helped support their daughters during a very busy schedule and who came to the games to cheer us on;  THANK YOU!
We will be celebrating the season on Friday November 15th at 6:00 pm in the Cafeteria.  Please stay tuned to the site for details about the banquet.  We will also have a sign up sheet for food etc available shortly.
Congratulations to our seniors and the entire Varsity team for a great season and for once again accomplishing our goal (you know!).
Seniors
Samantha Andrews 

Lucy Klemarczyk (Captain)

Lauren LaBella

Holly Lafoe

Kiersten Marshman

Samantha Rioux
Juniors
Katie Journeay (Captain)

Kaitlyn Lipsitt

Hannah McDonnell (Captain)
Sophomores
Alexis Campbell

Chelsea deRochemont

Samantha Hayward
Have a great rest of the school year and keep checking back periodically for announcements about the program and information about camps and clinics.
Girls!  This is the Time of Your Life!  
Go Hawks!
Coach Mike