Hello Hawks!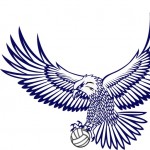 What an exciting time!! After hosting the Broncos of Alvirne High School and winning in 3 straight sets, we are headed to Spaulding High School for the second round of the playoffs!!  We would like to invite ALL JV and FRESHMEN players who would like to attend to ride the bus with us on Saturday.
WE NEED AS MANY PEOPLE AS WE CAN GET TO PACK THE SPAULDING GYM WITH BLUE HAWKS!!!!
Here are a few things you need to know about tomorrow's match:
The game is currently scheduled for 3:00 PM.

Because there is a Senior Social at EHS, Spaulding has graciously agreed to move the match time, HOWEVER,

If the Spaulding football game is rained out this evening, they will be forced to move the match time back to 6:00 PM

We are hopeful that will not happen!

Parents and Players will have to pay admission to the NHIAA (unless they ride the bus with us!).

My recollection is that it is $5.00 for adults and $3.00 for students but I could be wrong so plan accordingly.
That's it for now…  Wish us luck!
Go Hawks!  
Coach Mike